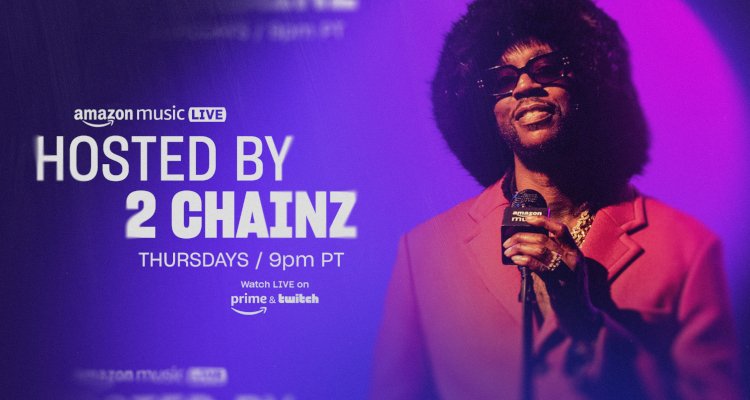 Amazon Music Live season two is set to kick off with a performance from Ed Sheeran on September 21st. Photo Credit: Amazon Music
Amazon Music has officially announced Amazon Music Live season two, which is set to initiate with a performance from Ed Sheeran later this month.
The Amazon-owned music service unveiled the sophomore iteration of Amazon Music Live today, via a formal release that was emailed to Digital Music News. With 2 Chainz returning as host, the livestream-concert happenings will once again follow Thursday Night Football, which Amazon is expected to broadcast through the 2032 NFL season under its current deal.
While Amazon Music Live didn't "kick off" until late October last year, the follow-up installment will hit the ground running in September, airing on both Prime Video and Twitch, as initially mentioned. Sheeran is specifically preparing to take the stage on the 21st, ahead of the September 29th debut of his seventh studio album, Autumn Variations.
Moreover, Sheeran's Amazon Music Live appearance will precede shows from artists spanning "a broad spectrum of genres," among them the Mor No Le Temas a la Oscuridad creator Feid on September 28th and Lil Durk on October 5th.
As in 2022, the events will air live from Los Angeles, with DICE still handling the "invitation only" tickets, according to Amazon Music. Each concert is slated to begin at nine o'clock Pacific Time, and Amazon Music's Twitch channel will one hour beforehand stream a pre-show encompassing "interviews, special guests, and other surprises," execs communicated.
Lastly, in terms of the available details regarding Amazon Music Live season two, concerts will include "live, American Sign Language performance interpretation featuring Deaf and hard-of-hearing interpreters," the business disclosed.
Addressing the announcement, Amazon Music GM Ryan Redington made clear his ambitious vision for this year's post-Thursday Night Football livestream shows.
"We created Amazon Music Live to bring sports and music fans together on Thursday nights for a brand-new, can't-miss event celebrating new music after the biggest game of the week," relayed the almost 15-year Amazon higher-up Redington. "Available to fans around the world on Prime Video and Twitch, AML became a massive new stage for artists to share their culture-defining new music after Thursday Night Football, and this year we're going even bigger."
Earlier this week, ESPN tapped Justin Timberlake and Timbaland to curate music for its Monday Night Football broadcasts, promos, and pre-game shows, with August having seen the NFL finalize an expanded multi-year partnership with media companies Ntertain Studios and Neon16.
Additionally, Jay-Z's Roc Nation and the NFL closed out the month yesterday by revealing the 2023 "songs of the season." These 12 tracks, among them Colors and Chaos' "Last One Standing" and Josh Moreland's "Not Only Human," will be incorporated "across NFL platforms throughout the season," referring to games, social media, and more, the long-partnered companies emphasized.
---