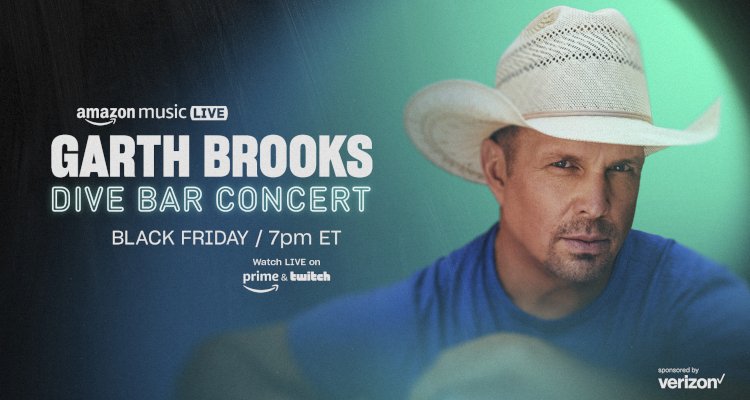 Garth Brooks is set to perform an Amazon Music Live concert on Black Friday. Photo Credit: Amazon Music
Garth Brooks is officially preparing to perform "brand-new music" during the first-ever Amazon Music Live Black Friday concert.
The Amazon Music-organized concert series and the 61-year-old country act's team reached out to Digital Music News today with word of the tie-up. On the heels of an inaugural season featuring Lil Baby, Lil Wayne, and Megan Thee Stallion, Amazon Music Live season two kicked off in late September with a performance from Ed Sheeran.
This and the program's other installments – featuring Feid, Metro Boomin, Green Day, Machine Gun Kelly, Post Malone, Latto, and more – aired following Thursday Night Football games, which Amazon is expected to broadcast into 2032.
And now, as initially mentioned, Amazon Music Live is scheduled to show on the afternoon of the year's biggest shopping day, this time following Black Friday Football. The latter, Amazon emphasized, will mark "the first-ever NFL game played on Black Friday in history."
Specifically set to begin at 4 PM PST on Friday, November 24th, the gig will livestream from and coincide with the grand opening of Tulsa-born Brooks' Nashville bar, the Friends in Low Places Bar & Honky-Tonk.
With north of three million fans having already requested in-person tickets, according to Amazon Music, the event will as highlighted above see the bestselling act play "brand-new music, live for the very first time," including tracks from his forthcoming studio album.
Meanwhile, bearing in mind the commercial advantages for Amazon of reeling in as many potential customers as possible, Prime Video is poised to air Brooks' Verizon-sponsored concert for free, including for those without a Prime subscription or even an Amazon account.
In a statement, Brooks, whose catalog has for years been on Amazon Music but not Apple Music or Spotify, touched upon the promotional and commercial advantages of performing at his bar, which includes a merch store.
"We've already seen over 3 million entries to win a chance to attend," Brooks relayed in part, "and thanks to our friends at Amazon, this episode will ensure that everybody who wants to see this show can. Not only will the people see the Friends bar for the first time, but they will also hear new music live for the first time…and if you know us, we will be playing the old stuff, as well."
In other exclusive-livestream news, Live Nation last month launched "Veeps All Access," a paid subscription affording customers access to live shows as well as "carefully" curated original content. Earlier this week, Veeps confirmed plans to stream a Reba McEntire Ryman Auditorium event on Sunday the 5th.
---