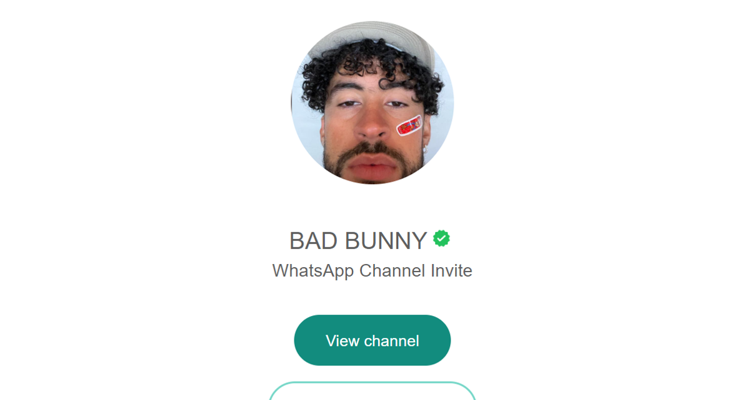 Photo Credit: Bad Bunny / WhatsApp
Bad Bunny announced on his WhatsApp channel that his new single will debut tonight, after promising fans last week that new music was on the way.
Puerto Rican superstar Bad Bunny has been teasing new music on the way, and he finally revealed his latest single dropping tonight (September 25) — sharing the news on his WhatsApp channel, where he already boasts over 12 million followers. He first announced on September 20 that new music would be out before the end of the month.
"I don't know if this will make you happy, but I'm going to release one more song this year, and it'll be out before September ends," Bad Bunny shared last week. On Sunday (September 24), he shared a 17-second snippet of the song, writing in Spanish, "In case you like it and are interested to know, (the song) comes out tomorrow, Monday, at 8 PM Puerto Rico time."
The new track follows the heels of Bunny's "Where She Goes," which dropped in May and reached #1 on the Billboard Global 200 and Latin Airplay charts. He also teamed up with Grupo Frontera earlier this year on "un X100to," which earned Frontera their greatest debut on Billboard's Hot Latin Songs chart at No. 3, and later reaching No.1 on both the Latin Airplay and Billboard Global Excl. US charts.
News of Bad Bunny's WhatsApp channel dropped less than two weeks ago, but it took the superstar no time at all to hit over 12 million followers on the platform. The feature enables a one-to-many channel to post news and other content for fans to enjoy and react to without allowing replies.
Besides making new music — and spending lots of time attending events with current girlfriend Kendall Jenner — Bad Bunny has been busy flexing his acting chops.
The new Amazon Prime film Cassandro, which released over the weekend, tells the story of a gay amateur wrestler's rise to international stardom. Roger Ross Williams directed the film, with writing by Williams and David Teague. The movie has star Gael García Bernal share a kiss with co-star Bad Bunny's character Felipe, "a drug dealer drawn to the wrestler."
---