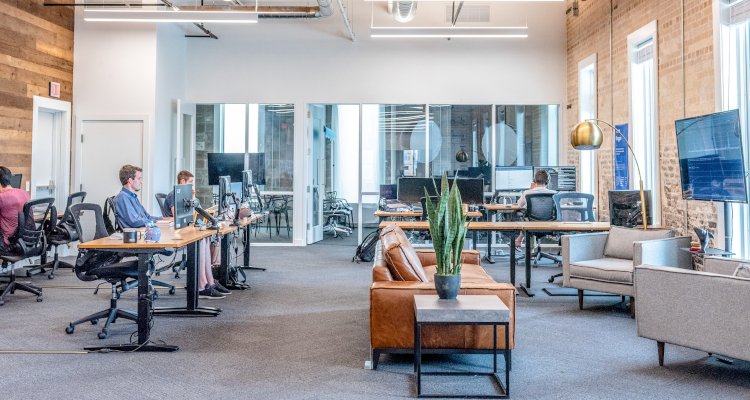 A sparsely populated office. Photo Credit: Austin Distel
Weeks after unveiling a potentially far-reaching tie-up with Universal Music Group, BMG has reportedly laid off about 40 team members, including multiple executives.
Word of the Bertelsmann subsidiary's personnel cutback entered the media spotlight in a report from Billboard. At the time of this writing, though, the Thomas Coesfeld-led music company didn't appear to have commented publicly on the matter, nor did any of the impacted professionals seem to have confirmed their departures on LinkedIn.
(Incidentally, a newly penned LinkedIn post shows that the frequent catalog investor BMG only recently added to its Nashville office a senior copyright coordinator.)
In any event, the roughly 40-person reduction is said to have reached employees at BMG's Berlin headquarters as well as its offices in New York and Los Angeles. Impacted divisions include the business's Modern Recordings label and "the entirety of its film/TV, theatrical, and international marketing department for recordings," per the mentioned outlet.
Among the execs affected are Fred Casimir (who held roles including EVP of global repertoire) and Jason Hradil (SVP of global repertoire), according once again to Billboard. Moreover, an anonymous employee expressed the belief that the BMG layoffs had resulted from the entity's hiring McKinsey & Company – and that other cutbacks could arrive in the approaching months.
But in an internal video call announcing the less-than-ideal news, BMG's aforesaid CEO, Thomas Coesfeld, reportedly chalked up the downsizing to the broader "BMG Next" initiative and underwhelming results for the five-year-old international marketing team.
Regarding the global marketing team, "'expectations from this novel structure were not met, and it created duplication of functions with local teams,'" Coesfeld reportedly explained to staff. "'The clear business decision is to instead give artists a single contact point with their local repertoire teams,'" the 33-year-old reportedly communicated.
Bearing in mind the initially highlighted Universal Music partnership, 2024 may deliver additional layoffs for BMG, which in September parted ways with Warner Music's ADA. Focusing first on physical distribution – which has shifted to UMG's commercial services unit – BMG and UMG also disclosed that "further collaborations" were "already under discussion."
Earlier this month, Amazon's Twitch revealed a fresh round of layoffs, and the ecommerce giant is reportedly doing away with its Amp live-radio offering. Meanwhile, Epic Games axed 50 percent of Bandcamp's staff ahead of the close of the latter's sale to Songtradr, and Ampled announced plans to cease operating by 2023's end.
---