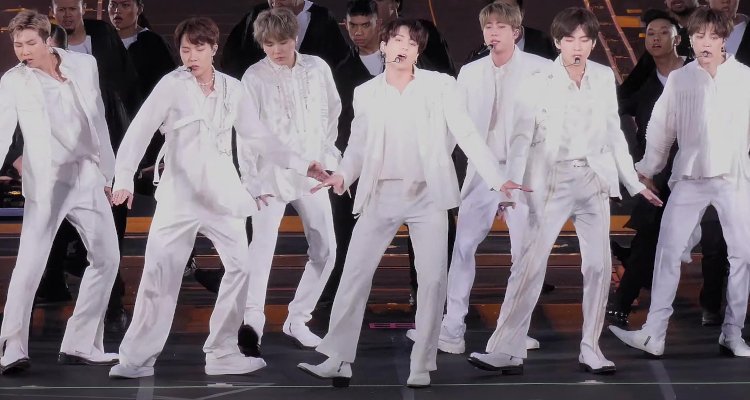 A live performance from BTS, all seven members of which have signed expanded agreements with Hybe/Big Hit. Photo Credit: I DARE U JK
Hybe has officially re-signed all seven members of the ultra-popular BTS to new "exclusive contracts."
Seoul-headquartered Hybe's re-signing of BTS, executed specifically via its Big Hit Music subsidiary, came to light in a regulatory filing as well as a formal release that was forwarded to South Korean media.
"Our company has completed the Board of Directors' resolution to renew the exclusive contracts of 7 BTS members, artists belonging to Big Hit Music Co., Ltd," the Belift Lab owner indicated in the mentioned investor notice. "This fact was judged to be a management matter that could affect the company's financial status and investor decision-making, and was therefore disclosed."
While the news doesn't appear to have spurred a stock-price rally – Hybe shares slipped by a little under 1% today, to ₩243,000/$182.42 apiece – the K-pop agency has in any event enjoyed an over 43% per-share valuation boost from 2023's beginning.
Moreover, the residential real estate investor Hybe has opted against publicly disclosing the precise length of the agreements, but has revealed a ₩1 billion/$749,558 donation (executed specifically through Big Hit) to UNICEF to celebrate the expanded pacts.
Though BTS remains on hiatus as members Jin and J-Hope complete their military service as required under South Korean law – Suga will enlist two days from now, per Hybe – 2023 has delivered several reminders of the boy band's continued commercial reach.
With ultra-dedicated Army fans committed to supporting the solo projects of the 13-year-old group's members, "Seven" artist (and Calvin Klein ambassador) Jungkook last month saw his own Spotify monthly listener count surpass that of BTS itself. (BTS has in the interim regained a slight edge, at 32.49 million listeners to 32.23 million listeners.)
Jimin, for his part, has broken multiple streaming records as well – albeit on the strength of a whole album, Face, as opposed to a single track.
Additionally, Cartier-partnered V, who released an 18-minute effort called Layover in its entirety 12 days ago, has scored north of 200 million total Spotify streams between just two of the project's songs, "Love Me Again" and "Rainy Days."
For these and a number of other reasons, evidence suggests that BTS' eventual reunion will make a significant splash in terms of ticket sales, streams, merch, and more. Hybe is banking on the complete group's return arriving sometime during 2025 – but plans are already in motion to develop and popularize completely different acts.
Elsewhere in the rapidly evolving K-pop space, Twice cracked seven billion cumulative Spotify streams one month ago, SM Entertainment kicked off September by coordinating with Sony Music's RCA to debut Riize, and Fifty Fifty agency Attrakt announced that it had secured a $7.5 million investment.
---