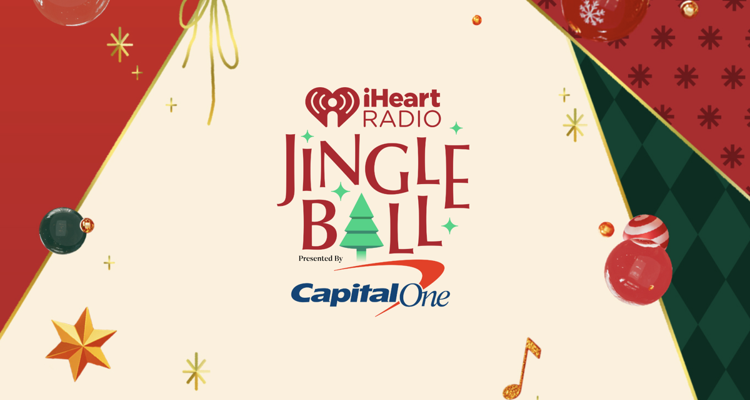 Photo Credit: iHeartRadio
iHeartMedia has announced the lineup for its iHeartRadio Jingle Ball Tour, with an exclusive broadcast of the concert moving to ABC. Take a peek at what to expect.
Olivia Rodrigo, Usher, Nicki Minaj, SZA, Niall Horan, OneRepublic, AJR, Sabrina Carpenter, Miguel, Jelly Roll, Big Time Rush, NCT DREAM, Flo Rida, and more top the lineup of this tour heading to major cities across the United States. ABC is the exclusive broadcast partner for the event, airing a special on December 21. Stops this year include Tampa, Dallas/Fort Worth, Los Angeles, Chicago, Detroit, New York, Boston, Washington, DC, Philadelphia, Atlanta, and Miami.
"Our annual iHeartRadio Jingle Ball lineup is one of our most anticipated of the year, and we're excited to finally share who will be joining us on the road this season," adds Tom Poleman, Chief Programming Officer for iHeartMedia. "This event always showcases the best in pop music and gives our listeners the chance to celebrate the holiday season alongside their favorite artists. We're thrilled with this year's artists and we can't wait to see them put on a great show."
iHeartMedia struck a new multi-year agreement with ABC to be the exclusive television broadcast partner for the iconic event. the iHeartRadio Jingle Ball tour will air on the network December 21 at 8 pm EST/PST, airing on demand on Hulu the following day.
Capital One is also the presenting partner for the tour for the ninth straight year. Eligible Capital One cardholders will get first access to high-demand tickets and experiences through a cardholder presale in each city. The presale period begins October 3 at 10 am local time and runs through October 5 10 am local time. Ticket reale info is available at iHeartRadio.com/CapitalOne.
Ticket for the general public will go on sale October 6 at 12 pm local time and will be available at iHeartRadio.com/JingleBall. Here's a peek at the tour dates and when the Jine Ball will be coming to a city near you.
iHeartRadio Jingle Ball 2023 Tour Schedule
November 26 | Tampa, FL @ 7pm EST
Lineup Includes: Niall Horan, Teddy Swims, Zara Larsson, Doechii, Paul Russell, Kaliii and Lawrence
November 28 | Dallas/Fort Worth, TX @ 7:30pm CST
Lineup Includes: Jelly Roll, Doechii, Big Time Rush, Flo Rida, LANY, Paul Russell, Kaliii and P1Harmony
December 01 | Los Angeles, CA @ 7:30pm PST
Lineup Includes: Olivia Rodrigo, Niall Horan, AJR, Sabrina Carpenter, Miguel, Doechii, Flo Rida, (G)I-DLE and P1Harmony
December 04 | Chicago, IL @ 7pm CST
Lineup Includes: Nicki Minaj, Jelly Roll, Big Time Rush, Doechii, (G)I-DLE and Kaliii
December 05 | Detroit, MI @ 7:30pm EST
Lineup Includes: Usher, Jelly Roll, Lil Durk, Big Time Rush, Flo Rida, Doechii, Kaliii and (G)I-DLE
December 08 | New York, NY @ 7 pm EST
Lineup Includes: Olivia Rodrigo, SZA, OneRepublic, Sabrina Carpenter, Jelly Roll, Big Time Rush, Doechii, Pentatonix, David Kushner and Melanie Martinez
December 10 | Boston, MA @ 6 pm EST
Lineup Includes: SZA, Sabrina Carpenter, OneRepublic, Flo Rida, David Kushner, Melanie Martinez, NCT DREAM and (G)I-DLE
December 11 | Washington, DC @ 7:30pm EST
Lineup Includes: OneRepublic, Jelly Roll, Big Time Rush, Doechii, Flo Rida, Melanie Martinez, David Kushner, NCT DREAM and (G)I-DLE
December 12 | Philadelphia, PA @ 7:30pm EST
Lineup Includes: Usher, OneRepublic, Jelly Roll, Big Time Rush, Doechii, David Kushner and (G)I-DLE
December 14 | Atlanta, GA @ 7:30pm EST
Lineup Includes: Nicki Minaj, Ice Spice, Sabrina Carpenter, Flo Rida, David Kushner, Kaliii and NCT DREAM
December 16 | Miami, FL @ 7:30pm PST
Lineup Includes: Marshmello, AJR, Flo Rida, Ludacris, LANY, David Kushner, Kaliii and Paul Russell
---