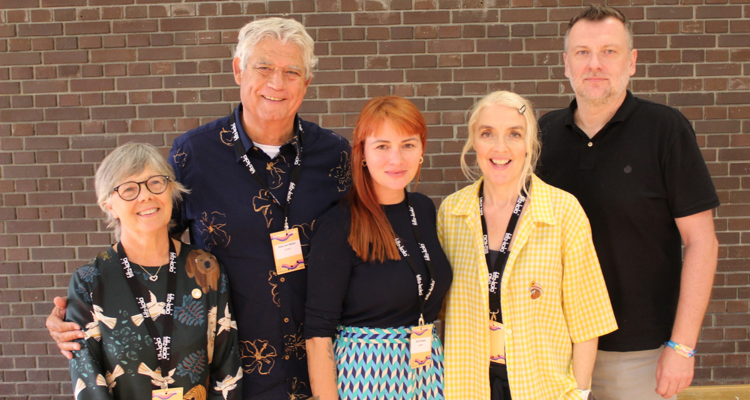 Photo Credit: Francesca Trainini, Kees van Weijen, Ruth Koleva, Helen Smith, Dario Draštata
ANMIP, the Association of Independent Music Publishers and Producers in Bulgaria, has joined IMPALA, the association for independent music businesses across Europe. IMPALA welcomed ANMIP's participation in its AGM and board meeting last week in Vienna at the WAVES conference as they brainstormed future priorities for both organizations.
ANMIP was founded with twelve members and board director Ruth Koleva earlier this year. Its first order of business was to align with sister organizations across Europe by joining IMPALA, and Ruth is already working closely with ANMIP's European counterparts across the continent.
IMPALA board members Kees van Weijen (STOMP, NL) and Dario Draštata (RUNDA, ex-YU) are also members of the ANMIP advisory board. ANMIP will also join the Worldwide Independent Network (WIN) through IMPALA.
ANMIP's objectives include:
Ensuring the official airplay chart is accessible to all and providing transparent, comprehensive data on the popularity and exposure of music tracks across various media platforms.
Building capacity for the sector to empower music professionals with the skills, knowledge, and resources needed to navigate the ever-shifting music industry landscape successfully
Leveraging fair play and equal representation for Bulgarian artists within the global music scene
Supporting music export initiatives
Enhancing copyright enforcement
Advocating for effective mechanisms to combat piracy and protect IP
Promoting cultural exchange
"The core of IMPALA's work has always been to level the playing field for independents across Europe, which also includes taking an active role in strengthening and connecting our members across Central and Eastern Europe," commented Kees van Weijen, CEO of STOMP and Executive Board Member of IMPALA. "We are thrilled to see the recorded growth in the region and are excited about the upcoming period, with ANMIP being a very welcome member in our pan-European community."
"Becoming a part of a European network of independent music companies is a tremendous opportunity for ANMIP Bulgaria. It enables our members to exchange knowledge and expertise with other companies, fostering an environment of collaboration and growth," adds Ruth Koleva, Board Director of ANMIP.
"Our foremost objectives for the near future encompass fortifying the independent music community in Bulgaria, expanding our association, and foraging connections across Europe to create a vibrant and interconnected music ecosystem that benefits both our members and the partners of our association."
"Our members are delighted to welcome ANMIP with Ruth participating in our executive board. Developing the Central and Eastern European market is one of IMPALA's priorities," concludes Helen Smith, IMPALA Executive Chair.
"Last week at IMPALA's AGM, our members appointed Dario Draštata, CEO of Dallas Records and founder of RUNDA, as Chair of IMPALA for the next two years. This will allow us to put a clear focus on the region and further address the issues that matter for our members in this region, from collecting society work to digital and copyright."
ANMIP's founding members are:
Ara Music
Diapazon Records
Facing The Sun
Flat Line Collective
HMSU / Broken Balkanz Records
L 2 Music
Monte Music
Ostava Ltd.
ADAMAND
Metaart Foundation
Ape Tunes
MUZZE Consulting
---