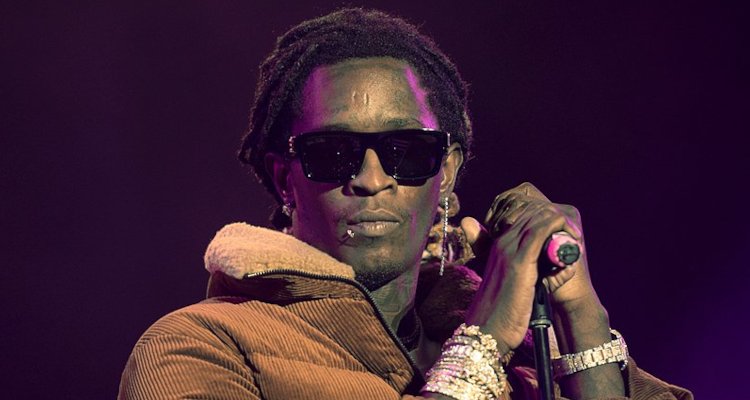 Young Thug, who's scheduled to head to trial on RICO charges later in November. Photo Credit: Frank Schwichtenberg
Prosecutors will be allowed to introduce as evidence lyrics from Young Thug tracks when the rapper goes to trial on Georgia RICO charges later this month, a judge has determined.
Judge Ural Glanville just recently ruled to allow prosecutors to use 17 sets of lyrics against the 32-year-old, whose real name is Jeffery Lamar Williams. For background, the Atlanta-born artist has been behind bars since his May of 2022 arrest on a number of gang-related charges.
Indicted along with 27 other alleged members of the Young Slime Life street gang, Young Thug has been denied bond on multiple occasions during the past 18 or so months. And from the outset, the Grammy winner's song lyrics have factored heavily into the prosecution and the decision to keep him behind bars.
Meanwhile, Young Thug has denied the charges and even released his third studio album, Business Is Business, in June. Now, with the much-delayed trial (for Young Thug and five others, per the Associated Press, or Young Thug and seven others, according to ABC News) expected to begin on November 27th, prosecutors have received the green light to introduce the lyrics from nearly 20 songs, as initially mentioned.
According to the Associated Press, Judge Glanville has specifically approved the lyrics' inclusion as evidence so long as prosecutors can demonstrate that they're "related to crimes that the rapper and others are accused of committing."
And per on-scene local reports, the judge's order further extends to "actions in music videos" as well as social media posts. Explaining the decision, Judge Glanville indicated that the approval constitutes "a preliminary admissibility determination," footage captured in the courtroom shows.
"The court's just making a preliminary admissibility determination," the judge said. "Of course, anything that the court may rule upon at this point in time will be subject to a complete foundation being met and may be subject to other additional objections."
Law & Crime Network captured over six hours of relevant proceedings as well as the court's entire explanation for allowing the introduction of the lyrics, which Young Thug and his team have said would constitute a violation of the artist's First Amendment rights. ABC News has reported that the trial could "last for a year."
Back in late September of 2022, California enacted the "Decriminalizing Artistic Expression Act," which, as its name suggests, encompasses guidelines related to the admissibility of artistic-expression evidence such as rap lyrics in criminal cases.
Industry organizations including the Recording Academy have for some time been pushing for a similar measure at the federal level. After failing to gain traction in 2022, one such bill, supported by the Academy, was reintroduced in April.
---