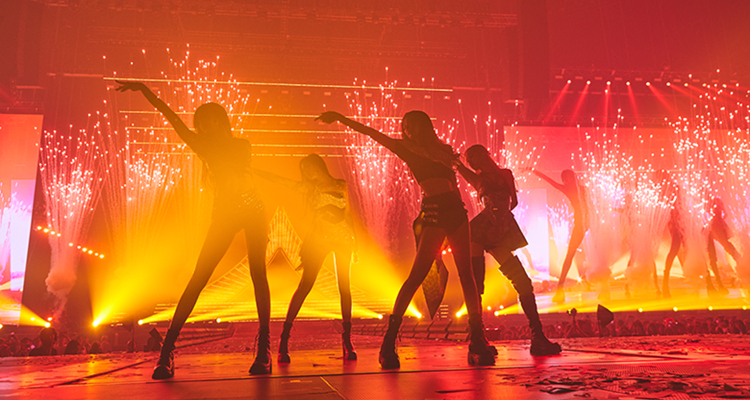 Photo Credit: Meta
Meta announces Meta Horizon Worlds, a VR concert event featuring K-pop superstars Blackpink and a weekly series of performances from iHeartRadio and Red Rocks.
In its continued efforts to break new ground in virtual reality and the metaverse, Facebook parent Meta has announced Meta Horizon Worlds' new VR concert series, featuring K-pop superstars Blackpink and concerts from iHeartRadio and Red Rocks.
Produced by The Diamond Bros in partnership with Meta, "Blackpink: A VR Encore" was filmed at the group's sold-out Born Pink World Tour finale show at Gocheok Sky Dome. Featuring some of the band's biggest hits, including "How You Like That," "You & Me," and "Pink Venom," the 70-minute concert event was produced especially for VR and filmed to provide Meta Quest owners with a unique first-person experience.
"We're thrilled to embrace the dynamic world of VR because it allows us to reach an even wider global audience and share our music in an entirely new, immersive way," says Blackpink. "This VR concert is not just a show; it's an extension of the tour we poured our hearts into. We can't wait for you to see the magic we've created with The Diamond Bros and Meta, and thank you to our incredible Blinks for your endless support."
Artists like Blackpink are transforming how music fans experience performances and connect with their favorite artists," adds Meta VP of Metaverse, Vishal Shah. "We're excited to feature this creative, social VR experience from The Diamond Bros in Horizon Worlds and can't wait for Meta Quest owners to take a front-row seat for this amazing show."
"Blackpink: A VR Encore" will debut on December 26 at 5 PM PT. Fans who miss the premiere will be able to catch the replay throughout the following month in Horizon Worlds.
Other scheduled VR events include immersive concerts from Red Rocks Amphitheatre in Colorado, with Alison Wonderland on December 18, and Louis the Child on December 30, both debuting at 5 PM PT.
These and more will be available for free in Music Valley, a VR desert oasis in Horizon Worlds where it's constantly festival season. The main stage features a 180-degree screen and a translucent dance floor filled with balloons, light sticks, and grabbable objects to create a visually dynamic space. Several side acts are explorable through doorways to other music-themed Worlds, featuring mini-games and other interactive experiences. Music Valley opens its virtual doors beginning November 28.
---