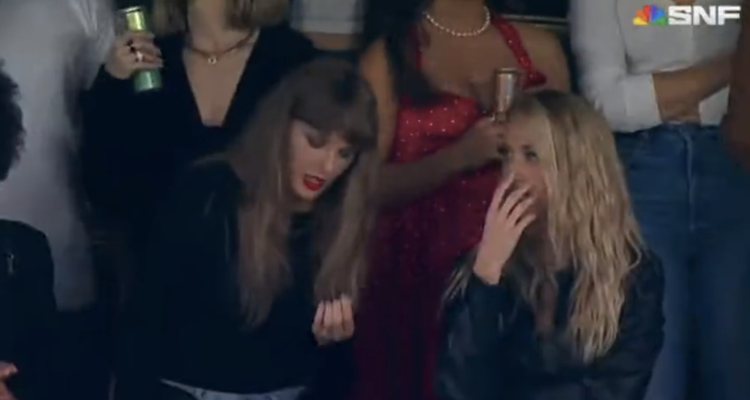 Photo Credit: NBC / Sunday Night Football
Sunday evening marked the second appearance of Taylor Swift at an NFL football game in support of Travis Kelce of the Kansas City Chiefs. Now, NFL fans are clutching their pearls over Swift's heavy exposure.
Swift made her first appearance in support of Kelce on September 24th in Kansas City, with extensive coverage and constant pan-backs to the singer. Among the highlights: the singer shouted "let's f**king go!" when Kelce scored a touchdown during that game, though that was just one non-game nugget for Swifties and celebrity gossipers to enjoy. Perhaps noting the attention that her first appearance garnered, Swift was once again on display for NBC's Sunday Night Football match-up between the Chiefs and the Jets.
At times, it felt like the Chiefs and Jets were the ones joining Swift for a glitzy Sunday hangout in New York. Or at least that's how it felt to die-hard football watchers.
Indeed, 'legitimate NFL fans' are voicing their concerns that the game is becoming a spectacle not about football—but instead, who's watching or dating the players. "There's a fine line between having fun with something and going overboard and becoming cringe," writes Jimmy Traina for Sports Illustrated. "NBC was beyond cringe. And not just with the Taylor Swift nonsense."
Traina complains that watching the Swift-infested Sunday Night Football felt like watching the Super Bowl, which is largely catered to the non-football fan. Arguably, that's the feel that NBC is going for too — simply because it wants to expand attention on the games it broadcasts.
For Swift, this wasn't an off-the-cuff appearance. Instead, shots of Taylor Swift in the audience panned directly into commercials for her Eras Tour film at a theater near you. And whinge all you want about how Taylor Swift coverage doesn't belong in football—the Swiftie effect is real.
Fanatics reports that Travis Kelce's jersey saw a 400% spike in sales through its network of shops, including NFLShop.com. The influx of interest in Kelce is a direct result of rumors that Taylor Swift and Kelce are now involved. That surge of interest in Kelce's jerseys propelled him from the #19 spot into the top five best-sellers since that September 24 appearance.
---