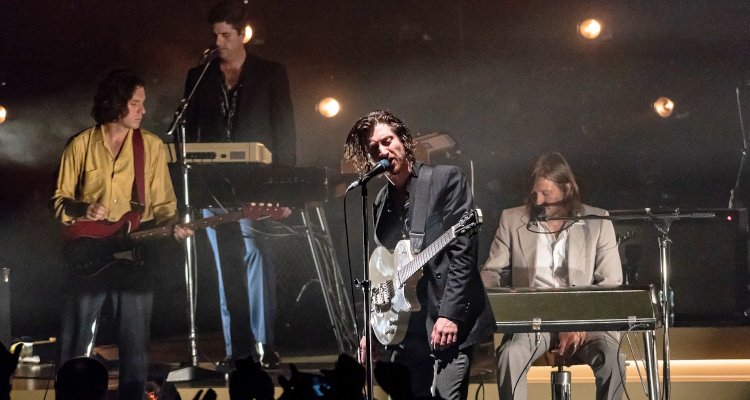 A live performance from the Arctic Monkeys, who've been nominated for 2024 Grammys in categories including Best Alternative Music Album. Photo Credit: Raph_PH
The Recording Academy has officially revealed the full list of nominees for the 66th Grammys, which will take place on Sunday, February 4th.
Grammys organizers unveiled the 2024 nominations today, and the final round of voting, this time for the annual happening's winners, is expected to begin on December 14th and wrap on January 4th.
Overall, the Grammy nominees feature seemingly few major surprises; commercially prominent acts like Olivia Rodrigo, Billie Eilish, and, of course, Taylor Swift are up for Album and/or Record of the Year. Additionally, Drake's Her Loss was in fact submitted and is in the mix for Best Rap Album. Perhaps the most noteworthy takeaway is who isn't on the list of nominations.
Ghostwriter, whose "Heart on My Sleeve" Drake and The Weeknd soundalike project has made a major listenership splash, didn't manage to secure a nomination. Earlier in 2023, Recording Academy head Harvey Mason Jr. reportedly invited the anonymous creator to a Grammys virtual roundtable before publicly signaling that the professional, who penned "Heart on My Sleeve" without AI, would be eligible for an award.
Presumably after being greeted by ample behind-the-scenes criticism, Mason Jr. promptly walked back the position, emphasizing that "the vocals were not legally obtained."
Here are the 2024 Grammy nominees in major categories including Record of the Year, Album of the Year, and Song of the Year.
Record of the Year
Nominees: "Worship" (Jon Batiste), "Not Strong Enough" (boygenius), "Flowers" (Miley Cyrus), "What Was I Made For?" (Billie Eilish), "On My Mama" (Victoria Monét), "Vampire" (Olivia Rodrigo), "Anti-Hero" (Taylor Swift), and "Kill Bill" (SZA)
Album of the Year
Nominees: World Music Radio (Jon Batiste), The Record (boygenius), Endless Summer Vacation (Miley Cyrus), Did You Know That There's A Tunnel Under Ocean Blvd (Lana Del Rey), The Age of Pleasure (Janelle Monáe), GUTS (Olivia Rodrigo), Midnights (Taylor Swift), and SOS (SZA)
Song of the Year
(For the listed tracks' songwriters)
Nominees: "A&W" (Lana Del Rey), "Anti-Hero" (Taylor Swift), "Butterfly" (Jon Batiste), "Dance the Night" (Dua Lipa), "Flowers" (Miley Cyrus), "Kill Bill" (SZA), "Vampire" (Olivia Rodrigo), and "What Was I Made For?" (Billie Eilish)
Best New Artist
Nominees: Gracie Abrams, Fred Again, Ice Spice, Jelly Roll, Coco Jones, Noah Kahan, Victoria Monét, and The War and Treaty
Songwriter of the Year, Non-Classical
Nominees: Edgar Barrera, Jessie Jo Dillon, Shane McAnally, Theron Thomas, and Justin Tranter
Best Pop Solo Performance
Nominees: "Flowers" by Miley Cyrus, "Paint the Town Red" by Doja Cat, "What Was I Made For?" by Billie Eilish, "Vampire" by Olivia Rodrigo, and "Anti-Hero" by Taylor Swift
Best Pop Vocal Album
Nominees: Chemistry by Kelly Clarkson, Endless Summer Vacation by Miley Cyrus, GUTS by Olivia Rodrigo, – by Ed Sheeran, and Midnights by Taylor Swift
Best Dance/Electronic Music Album
Nominees: James Blake's Playing Robots Into Heaven, The Chemical Brothers' For That Beautiful Feeling, Fred Again's Actual Life 3 (January 1 – September 9 2022), Kx5's Kx5, and Skrillex's Quest for Fire
Best Rock Performance
Nominees: "Sculptures of Anything Goes" (Arctic Monkeys), "More Than A Love Song" (Black Pumas), "Not Strong Enough" (boygenius), "Rescued" (Foo Fighters), and "Lux Æterna" (Metallica)
Best Rock Album
Nominees: Foo Fighters' But Here We Are, Greta Van Fleet's Starcatcher, Metallica's 72 Seasons, Paramore's This Is Why, and Queens of the Stone Age's In Times New Roman…
Best Alternative Music Album
Nominees: The Car (Arctic Monkeys), The Record (boygenius), Did You Know That There's A Tunnel Under Ocean Blvd (Lana Del Rey), Cracker Island (Gorillaz), and I Inside the Old Year Dying (PJ Harvey)
Best Rap Album
Nominees: Her Loss by Drake and 21 Savage, MICHAEL by Killer Mike, HEROES & VILLIANS by Metro Boomin, King's Disease III by Nas, and UTOPIA by Travis Scott
Best Country Album
Nominees: Rolling Up the Welcome Mat (Kelsea Ballerini), eponymous projects from Brothers Osborne as well as Zach Bryan, Rustin' in the Rain (Tyler Childers), and Bell Bottom Country (Lainey Wilson)
---