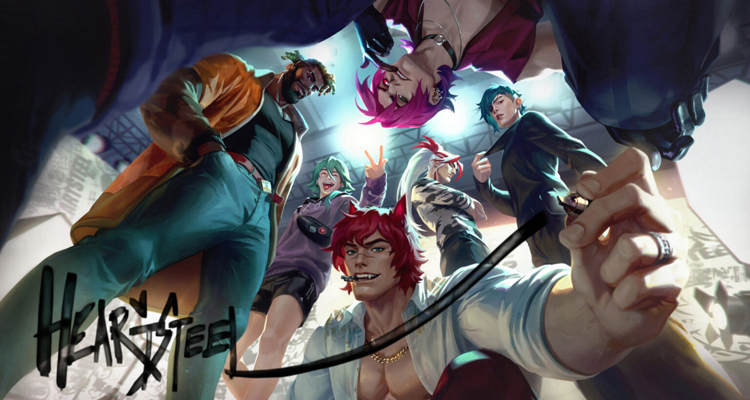 Photo Credit: Riot Games
Riot Games introduces their newest virtual music group, Heartsteel — with EXO's Baekhyun, Taiwanese-American artist ØZI, Cal Scruby, and Tobi Lou among the real-artist collaborators.
Video game developer and publisher Riot Games has revealed its latest virtual band offering, Heartsteel, starring reimagined versions of characters from Riot's phenomenally successful League of Legends. The group's character-forward songwriting and unmatched energy will be showcased in their upcoming debut single, "PARANOIA," available starting Monday, October 23, at 8 AM PT.
Riot Games Music (RGM) has established itself as a leader in virtual artistry, with a roster of League of Legends-derived characters in virtual bands including K/DA, Pentakill, and True Damage. Champions Ezreal, Kayn, Aphelios, Yone, K'Sante, and Sett form a group of "dynamic daredevils dedicated to unapologetic individuality and creative expression." The group's mission is to blaze a path to success on their own terms.
Heartsteel sets itself apart with a personality and sound drawing inspiration from modern music collectives and a range of influences across genres. The group will feature collaborations with real-world musical artists, including K-pop group EXO's Baekhyun as Ezreal, Taiwanese-American artist ØZI as Sett, Nigerian-American artist Tobi Lou as K'Sante, and Los Angeles rapper Cal Scruby as Kayn.
"Riot's virtual artists have been some of the most innovative and beloved music moments for our players," says Maria Egan, Global Head of Music & Events at Riot Games. "The idea of an all-male band has long been speculated on by fans, and we're so excited to bring this fantasy to life."
"Heartsteel is a deep collaboration between all our talented in-house creative teams and some incredible new artists," Egan continues. "The ethos of Heartsteel is a supergroup of musical soulmates greater than the sum of its parts — a philosophy that our community embodies every day through their dedication to our games."
RGM's most successful virtual group to date is K/DA, featuring characters Ahri, Kai'Sa, Evelynn, and Akali. Their debut single, "POP/STARS," was certified platinum. The song's accompanying music video became the most successful debut for a K-pop group in YouTube history, with over 560 million views. The success of K/DA led to RGM launching True Damage shortly thereafter, a virtual hip-hop group with over 165 million streams across DSPs.
---