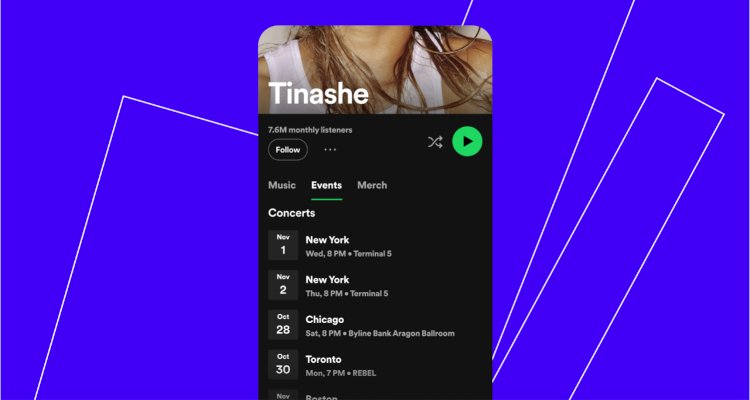 Spotify artist profiles now feature distinct tabs for music, merch, and tickets. Photo Credit: Spotify
Spotify has officially revamped artist profiles with a "brand new" tab-based design that's said to boost fan engagement and merch purchases.
The Stockholm-based streaming platform just recently announced the retooled artist profile design (and retreaded the profiles' basics) in a Spotify for Artists blog post.
According to this resource and the Spotify app, music, merch, and live shows are now organized "into three different tabs" on artist profiles. And while the change appears relatively minor on the surface, the company indicated that the revamped layout had delivered improved results during tests.
"Testing a dedicated events tab resulted in a 70% surge in user engagement with concerts on platform," claimed Spotify, "which, in turn, led to an 15% [sic] increase in users purchasing concert tickets."
On the merch front – Spotify has for some years allowed artists to integrate products directly into their profiles – the tab-driven sales growth is said to be more pronounced yet.
Currently able to "show off up to 12 merch items (with the most recently listed items appearing first) in the merch tab," artists purportedly enjoyed a north of 20 percent sales spike (seemingly by transaction volume as opposed to value) from the pivot during testing.
"We saw a 22% increase in users purchasing a merch item when visiting the merch tab on an artist's profile," spelled out Spotify.
Elsewhere in the lengthy document, Spotify took the opportunity to reiterate the essentials of artist profiles and to underscore their reach. "Millions" of fans visit said profiles daily, the service communicated, relaying also that 90 percent of the individuals "interact with the page in some way."
Not explicitly stated in the text, which encourages artists to keep their "pick" (a spotlighted release, merch item, gig, podcast, or playlist that expires after six months by default and can be complemented with a comment) as well as their 1,500-character bios up to date, is that carefully tuned artist profiles will for obvious reasons help human acts to stand out from the multitude of AI-artist pages.
One needn't look hard to identify the "artist" profiles at hand, many of which have generic names, seemingly random pictures, little or no creator information, and several (often similar) instrumental "songs" running about one minute apiece.
In coordination with an expanding collection of authorized non-generic AI tracks and a steady flow of proper music from actual musicians, the point is making it increasingly difficult to earn a living from streams themselves.
And as AI music appears unlikely to cease populating Spotify anytime soon – while the service continues to ramp up efforts to charge artists for promotion – logic suggests that streaming-adjacent revenue will necessarily command additional attention into 2024 and beyond.
---