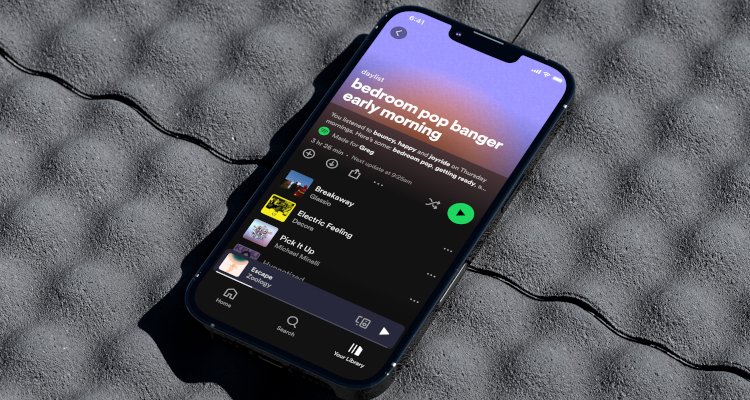 Spotify has officially launched an AI playlist called Daylist in the U.S., Canada, the U.K., Ireland, Australia, and New Zealand. Photo Credit: Spotify
About one month after expanding its artificial intelligence DJ offering to north of 50 countries, Spotify has officially debuted "Daylist," an AI-powered playlist that updates multiple times per day based upon past listening habits.
Spotify took its newest AI feature live today, affording access to both paid and ad-supported accounts in the U.S., Canada, the U.K., Ireland, Australia, and New Zealand. According to the streaming giant, the "hyper-personalized" multi-hour playlist "updates frequently between sunup and sundown," even adopting a fresh title (generated from the included songs' genres) with each iteration.
And as mentioned, Daylist's ever-changing track lineup factors for fans' past listening and the timing thereof, with higher-ups confidently claiming that the AI playlist "reflects what you want to be listening to right now."
Users can, of course, save especially appealing Daylist versions. But Spotify's made clear that replaced playlists won't be accessible after the fact. Moreover, given the seemingly strong initial usage of the AI DJ and the ample positive feedback that the non-human curator's received, the platform emphasized Daylist's shareability.
Specifically, Spotify's made available "three different sharecard options" for Daylist, including "a ready-made screenshot" of the individualized playlist, a "social media sticker that captures the essence" of the song collection at hand, and a different sharecard featuring an image that changes depending on the time of day.
A cursory look at the options shows that one can further alter the background color of sharecards before texting or copying a link to the appropriate image and playlist.
Meanwhile, although the company in its formal release didn't disclose exactly how many Daylist updates to expect per day, listeners "can view when your next update will be from the playlist page on mobile," per the Stockholm-headquartered business. (Incidentally, this Daylist update countdown didn't seem to be live on Android at the time of writing.)
On social media, a number of international Spotify users are expressing their frustration over Daylist's limited availability, with others yet taking the opportunity (by responding to Daniel Ek's tweet about the AI playlist) to demand that the streaming mainstay release HiFi. But different fans are voicing approval of Daylist and its almost concerningly effective ability to bring appealing music to millions of listeners at once.
Elsewhere in the AI sphere, Queen's Brian May earlier this month became the latest musician to reveal reservations about generative AI's long-term effect on the industry's creative side. And as a growing number of artists continue to capitalize upon AI tools – meaning that events such as the Grammys cannot very well ban AI music altogether – the Recording Academy has once again made headlines for its stance on the eligibility of artificial intelligence music.
---