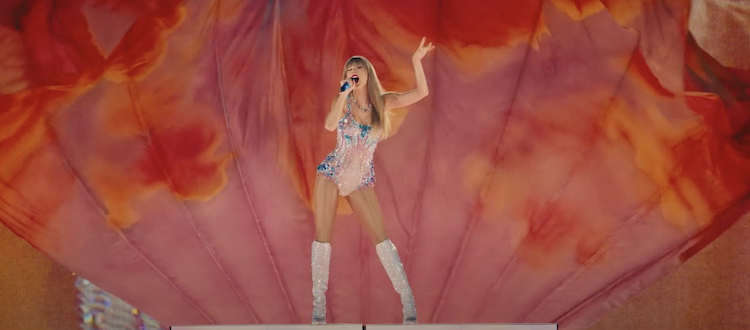 Still from the concert film Taylor Swift: The Eras Tour
After the concert film grossed a whopping $39 million on Friday, AMC theaters estimate the total weekend collections for The Eras Tour at $100 million. Hollywood Studios also placed estimates of an opening weekend gross between $90-$110 million but said, "This one is hard to guess. It's a unicorn."
Friday's $39 million opening officially places The Eras Tour as the second-best domestic opening at the October box office. The cinematic concert film is second only to Joker, which grossed $39.4 million, and ahead of 2021's Venom: Let There Be Carnage, at $37.4 million, as reported by Deadline.
The Eras Tour is playing at 3,850 theaters in North America. By the end of its opening weekend, Taylor Twist: The Eras Tour is already slated to be the top-grossing concert movie ever made.
Produced by Taylor Swift alongside mega-circuit AMC theaters, with production costs between $10-20 million, no one has anything to complain about. Estimates for Saturday are placing grosses at $32.3 million (17% lower than Friday's haul, which includes $2.8 million raked in from Thursday's previews).
The Eras Tour takes the spot for the seventh-best opening of 2023. After the actors' strike pitched some tough economic weeks at the box office, the concert film is also the biggest opening this October.
According to Deadline, The Eras Tour had secured an interim agreement with SAG-AFTRA, allowing Swift to post on social media and appear at the movie's world premiere — where she delivered a three-minute speech alongside shoutouts to her band, dancers, and fans.
"I've always had fun doing this," said Swift, adding, "I can't believe I get to do music as a career. I've never had this much fun in my life as I have had on The Eras Tour. It is far and away just the most electric experience of my life."
The Eras Tour is only playing in theaters Thursday-Sunday for the three weekends following its release. The cinematic concert clocks in at 169 minutes, taking fans on a nostalgic trip down memory lane, covering selected performances of tracks from Swift's ten albums.
Friday's moviegoers were 82% female, 63% of ticket buyers were between 18 and 34 years old, and 17% of those who turned up in full force were teenagers, according to the Hollywood Reporter.
This primarily female audience gave the movie a rare A+ CinemaScore in exit polls. Only 86 films have received an A+ CinemaScore since the company began in 1986, which include the likes of Spider-Man: No Way Home, Black Panther, 1991's Beauty and the Beast, Avengers: Endgame, Titanic, and E.T. The Eras Tour also boasts a 99% Rotten Tomatoes audience score.
The film has brought with it a lot of other firsts. The Eras Tour represents the first time in modern history that a theater circuit — instead of a Hollywood studio — has distributed a movie. The Eras Tour has already secured the record for being the biggest start for a film distributed by a movie theater chain — AMC.
Even if The Eras Tour misses the $100 million bullseye, it would still be the second-highest domestic start after Joker. If it grosses $90 million, it still secures the spot for any concert film's best debut in North America.
Paul Dergarabedian, chief box office analyst, said The Eras Tour weekend performance cannot be overstated, adding, "Given its outlier status and totally unique path to the multiplex, is made all the more impressive and unexpected that lands in the wake of Barbenheimer big screen phenomenon."
2011's concert film Justin Bieber: Never Say Never set a domestic record with a lifetime gross of $73 million. It grossed $26 million overseas, claiming a global total of $99 million. Michael Jackson's posthumous documentary/concert film This Is It grossed $72 million in North America and $181 million in global revenue.
For Taylor Swift: The Eras Tour, international grosses will be released on Sunday. AMC is predicting a global weekend start around the $150 million mark.
---