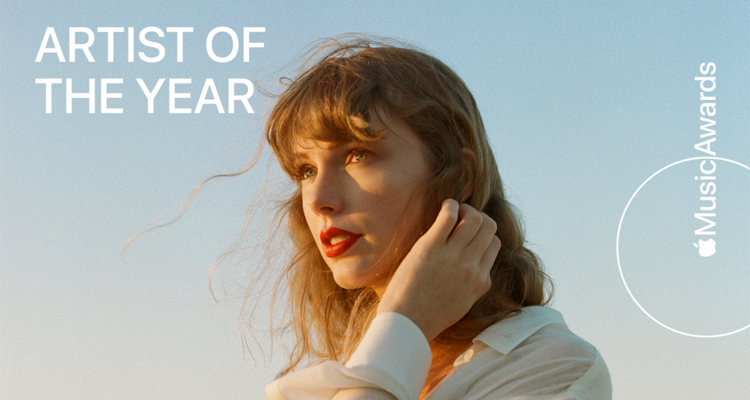 Photo Credit: Apple Music
Among her many accolades in 2023, Taylor Swift has broken one of Apple Music's most coveted records.
It's been 2023 (Taylor's Version), with singer-songwriter Taylor Swift breaking records left and right all year long. Among her many accolades this year, Swift delivered an unprecedented 65 tracks into Apple Music's Global Daily Top 100 in just the first ten months of 2023, an all-time record. On the heels of that accomplishment, Apple Music named Swift as its Artist of the Year for 2023.
"I am so honored to be Apple Music's Artist of the Year," said Swift. "Thank you to every single one of you for making this year the most incredible, joyful, celebratory year ever. From streaming the music non-stop to screaming it together in real life at the shows, dancing chaotically in movie theaters, none of this would have been possible without you. Thank you so much."
"Taylor Swift's impact on music is absolutely undeniable — not just this record-breaking year, but throughout her entire career," says Oliver Schusser, Apple's Vice President of Apple Music and Beats. "She is a generation-defining artist and a true change agent in the music industry, and there is no doubt that her impact and influence will be felt for years to come. We are thrilled to have the opportunity to celebrate her achievements."
Apple Music spotlights Swift's historic career with the music and moments that have defined her leading up to this year. Listeners can tune in to an array of radio programming to celebrate Swift's two decades and many eras of content, including interviews, album collections, and playlists.
Taylor Swift's music saw consistent streaming boosts throughout the year, particularly around the success of her Eras Tour. In March, the week the tour kicked off, her Apple Music streams grew 61% globally, and she continued to see growth in the double digits in monthly streams all summer long.
Apple Music's playlist, Set List: Taylor Swift's Eras Tour, was the No. 1 most-streamed set list of the year and among the top 40 editorial playlists of the year. Tracks like "Bad Blood," "Blank Space," "All of the Girls You Loved Before," "Shake It Off," and "Wildest Dreams," all hit the Apple Music charts for the first time in 2023.
Her album Midnights continues to reign as the biggest album by a female artist in Apple Music history by first-day and first-week streams worldwide. Swift is the most-streamed female artist in Apple Music history, and the female artist with the most songs to reach Apple Music's Global Daily Top 100.
Taylor Swift will also receive a physical award as Apple Music's Artist of the Year.
---