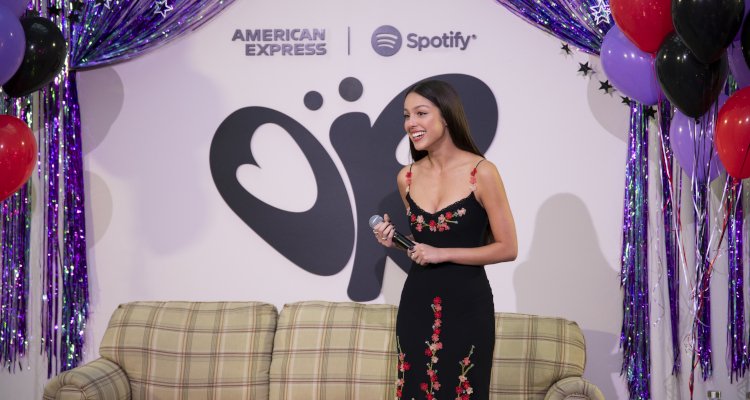 Olivia Rodrigo at a Spotify and American Express promotional event shortly before the release of 'Guts.' Photo Credit: Spotify
Despite the many shows that Olivia Rodrigo has added to her forthcoming world tour – and following the well-documented ticketing fiasco that accompanied Taylor Swift's Eras Tour – Ticketmaster has acknowledged that fan demand is outstripping the available tickets.
The Live Nation-owned ticketing platform went ahead and claimed that there aren't enough passes to go around (while also pointing fans to a comprehensive blog entry about the tour) in a series of social media posts. For reference, Rodrigo added about 20 new dates one week ago, and the "registration onsale" kicked off yesterday.
"Fan response to Olivia Rodrigo's GUTS world tour has been massive," Ticketmaster explained in a tweet, "and despite adding 20 more dates to better meet demand, there are still far more registered fans than tickets available.
"To create a better shopping experience, a limited number of fans will get access to the sale based on ticket availability and most fans will be placed on the waitlist.
"Please remember, receiving a code doesn't guarantee tickets," the business drove home, undoubtedly in part because of frustration stemming from the on-sale for Swift's aforesaid Eras Tour.
Interestingly, the mentioned Ticketmaster blog post made a point of emphasizing tickets' comparatively affordable base prices: "Standard tickets will range from $49.50 – $199.50 plus taxes and applicable fees in the U.S.," the text reads in part.
But ample demand and variable pricing are a recipe for ultra-inflated costs, and a multitude of Rodrigo superfans are taking to social media to air their grievances as ticket charges rocket past the disclosed "standard" range.
"Well guess who's NOT seeing Olivia Rodrigo, because the only available tickets were $500 a pop," reads one such tweet.
"i just got into the Olivia Rodrigo Ticketmaster sale and tickets were $500 each or more, I didn't end up buying bc she's cool but not $500 cool," echoes another message.
"i really would like artists to stop allowing ticketmaster to implement dynamic pricing during sales," an irked supporter communicated. "i love olivia rodrigo but i will not pay $500 to see her. you're just f–king over your fans while ticketmaster/live nation rakes it in."
"me trying to see her in NEW ORLEANS and the tickets being 500 dollars for mid section… no thank you," a would-be customer responded to the latter post.
Of course, different individuals yet seem far more bothered about their lack of tickets than the astronomical prices – with their own posts requesting resale passes to select dates. Finally, worth highlighting in conclusion is Ticketmaster's focus on the Rodrigo tickets' "delivery delay."
"Olivia Rodrigo tickets are mobile entry only and have a delivery delay – the period of time between the purchase and access to a ticket. … The delivery delay for Olivia Rodrigo is in place until approximately 72 hours before your event date," the platform wrote.
---