Photo Credit: Too Lost
New York-based music distribution and publishing firm Too Lost has announced a partnership with Cosynd.
The following was created in collaboration with Too Lost, a company DMN is proud to be partnered with.
Cosynd's powerful Copyright Registration API will enable Too Lost's global community of over 250,000 independent artists and labels to protect themselves and their music. This partnership comes as a continuation of Too Lost's broader push for enhanced protections for original works. With the integration of Cosynd's Copyright Registration API, Too Lost platform members will now be able to safeguard their compositions, lyrics, and sound recording with the U.S. Copyright Office—all alongside uploading their release for distribution.
Using this service will ultimately offer protection for registered works in over 175 countries and territories. The Cosynd API allows content aggregators to add this functionality to their workflow by repurposing existing data from a release to generate and organize registration applications that are error-proofed and filed by Cosynd.
Too Lost members can review and correct their applications before they're transmitted without needing to learn registration rules or do repetitive data entry tasks. The entire process is managed on the Too Lost platform within minutes—granting massive time and cost savings.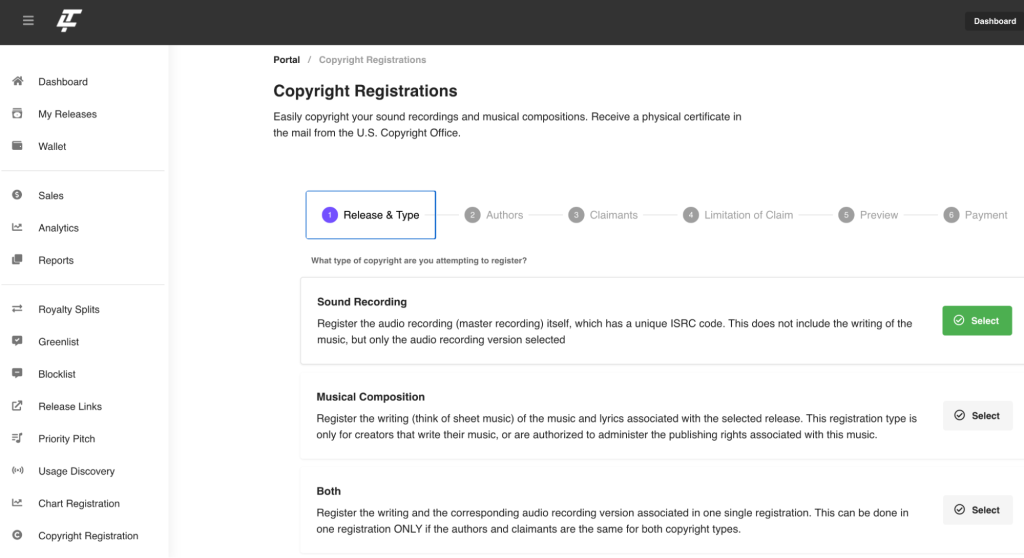 Photo Credit: Too Lost
"This partnership is about creating a practical and protected space for artists," adds Gregory Hirschhorn, CEO of Too Lost. "The Too Lost platform is designed to be a comprehensive solution that offers users everything they need in one place. Offering our members access to Cosynd's copyright registration tools is a tremendous value add that sends a clear message on where we stand as a company. Too Lost will continue to be a loud voice in the industry championing fair protections and compensation for IP."
"Copyright registration is now more critical for our community than ever before," adds Jessica Sobhraj, Co-Founder and CEO of Cosynd. "The task of registering copyrights can be tedious and—as many rights holders are now realizing—can also be extremely costly to address if it's ignored or delayed. This groundbreaking partnership will provide Too Lost's members with an easy, affordable, and accessible way of registering that is unlike anything else our industry has experienced before."
"The value-add has a longstanding, rippling effect that will allow their members to enjoy the full benefits of registration, particularly the right to enforce and monetize those copyrights to the fullest extent for decades."
Copyright registration is a mandatory requirement before filing a lawsuit, and there is no substitute for registering with the U.S. Copyright Office. That involves mailing a copy of the work, affidavit services, or other registration databases. Early registration can grant payouts of up to $150,000 per infringement plus legal fees—but these protections only come into play if the registration is filed before content is stolen or misused. Recent litigation examples like the Ice Starr case exemplify why copyright protections like those offered by Too Lost are necessary to protect musicians' work from exploitation.
Icelandic musician Arni Larusson (Ice Starr) filed legal action against several music artists and their labels in 2021 citing multiple copyright infringements. At the core of this complaint? Yung Bleu's breakout album Investments 5. The album consists of unauthorized use of six original compositions by Ice Starr, with the infringing works all retaining a specific watermark used under his Ice Starr brand.
The watermark is repeated throughout all the cited tracks, further supporting claims of copyright infringement. Industry standards would have seen the watermarks removed from the underlying sound recordings, had the execution of a standard production agreement been reached.
"It is our understanding that the infringing tracks were most likely ripped by Yung Bleu's team from YouTube using a .mp3 converter, and Yung Bleu simply rapped over Mr. Larusson's sound recordings and compositions," adds Tom Werge, of Werge Law Group who filed the lawsuit on behalf of Ice Starr.
Photo Credit: Too Lost
Ice Starr's legal team successfully settled that case and in October 2022 a federal judge ruled that defendants Taquari Hatch AKA RESERV claimed credit for several songs including "Hoop Dreams," "We All We Got," "Wanna Fuck," "Plotting," "Smooth Operator," "The Plan," "Old Me," "My Boys," "Bought a Patek," "Miss It," "Ice on My Baby," and its remix.
"Ice Starr was the writer of these works and shall be designated as the same in place of Defendant Taquari Hatch AKA RESERV on all such works including as registered with any and all performing rights organizations," the judgment in the case reads. The artist won a judgment on his behalf in the amount of $531,734.08 plus attorneys' fees, costs, and disbursements ($211,620.46) for a total of $901354.81."
With the help of Cosynd, Larusson registered his works and could prove he was the original writer and creator. Too Lost is designed as a comprehensive platform for artists to provide everything they need in one place—including copyright registration thanks to Cosynd's powerful tools.
---