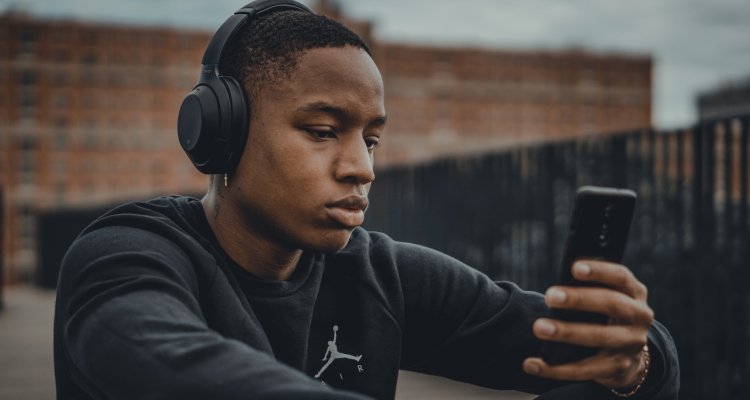 Universal Music and Deezer have revealed their long-awaited artist-centric streaming model. Photo Credit: Ilias Chebbi
Six months after announcing a collaboration on an artist-centric streaming model, Universal Music Group and Deezer are set to implement the retooled compensation framework later this year.
The leading label and the Paris-headquartered streaming platform formally detailed their "comprehensive" artist-centric model this morning. Against the backdrop of AI music's rise, 2023's initial eight or so months have brought with them multiple streaming-compensation complaints from the Big Three labels.
Suddenly concerned with the quality of music that generates royalties, Universal Music head Lucian Grainge kicked off 2023 by proclaiming that "the economic model for streaming needs to evolve." The overpaid exec subsequently took aim at the on-platform prevalence of "white noise" as his company reportedly compelled streaming services to remove certain AI works.
Meanwhile, Grainge doesn't believe that platforms' recent price increases go far enough, and Sony Music head Rob Stringer is of the opinion that "DSPs are watered down by low quality and meaningless volume." Warner Music's Robert Kyncl, for his part, has suggested that a number of further price hikes are forthcoming.
Bearing in mind this pertinent background information, Universal Music went ahead and announced streaming-reform unions with Tidal, SoundCloud (which has already implemented a "fan-powered" royalty model), and, of course, Deezer, to name a few.
Now, half a year later, Deezer is expected to adopt the resulting artist-centric model in France during the fourth quarter, "with additional markets to follow." And at least as presented in the formal release that was emailed to DMN, the corresponding changes appear relatively positive (if somewhat cautious).
Specifically, the new model will afford "professional artists" – described in this instance as each individual with 1,000 or more streams per month resulting from a minimum of 500 unique listeners – "a double boost…in order to more fairly reward them," per the text.
Deezer has teed up another "double boost for songs that fans actively engage with, reducing the economic influence of algorithmic programming," the Access Industries subsidiary relayed.
Most notably, the aforementioned white noise – which has for some time been raking in substantial royalties on streaming platforms – will be demonetized outright under the new model. (Perhaps not coincidentally, Spotify is also cracking down on white noise.) Deezer is in particular preparing to limit new white-noise uploads and move away from paying royalties for "non-artist noise audio," which it intends to replace "with its own content in the functional music space."
However, the Apple Music competitor won't include the latter projects in the royalty pool, which execs say will benefit from an enhanced anti-fraud system as well. This "updated, and stricter, proprietary fraud detection system" will remove "incentives for bad actors," Deezer communicated. Predictably, UMG is collaborating on the development of the involved fraud- and AI-detection tools.
Looking forward to 2024 and beyond, the companies are said to be prepping "data-based adjustments to optimize model performance" – including setting the stage for "future elements such as ARPU enhancements, including super fan monetization."
Addressing today's announcement, UMG EVP and chief digital officer Michael Nash emphasized the ostensibly flexible nature of his company's Deezer tie-up.
"Embracing the commonly shared objectives we highlighted at the outset of this chapter in our partnership," Nash said in part, "together we'll maintain a flexible and adaptive approach. As the ever-evolving music landscape continues its rapid transformation, UMG and Deezer will rigorously address the impact of these changes as we incorporate new insights from data analysis, and fine-tune the model, as appropriate."
In remarks of his own, Deezer CEO Jeronimo Folgueira described the system as "the most ambitious change to the economic model since the creation of music streaming."
"We are now embracing a necessary change, to better reflect the value of each piece of content and eliminate all wrong incentives, to protect and support artists," proceeded Folgueira. "There is no other industry where all content is valued the same, and it should be obvious to everyone that the sound of rain or a washing machine is not as valuable as a song from your favourite artist streamed in HiFi."
---