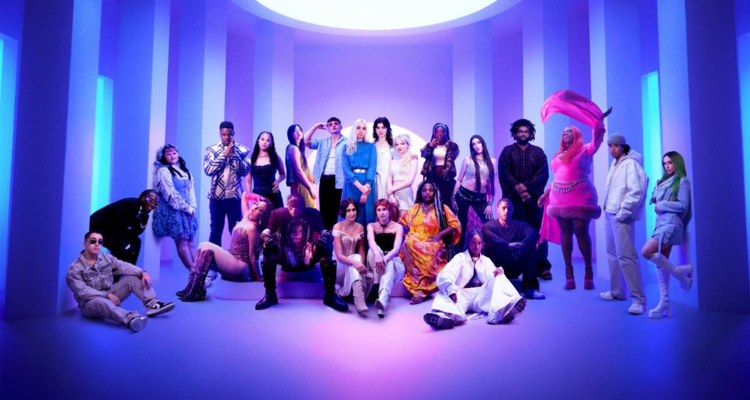 Photo Credit: Vevo
So who are the up-and-coming artists of 2024? We take a look at the class of 2024, as curated by Vevo's 'DSCVR Artists to Watch' program from a selection of over 600 submissions.
Whether or not you're prepared, 2023 is soon coming to a close, which begs the question of which up-and-coming artists will soar into the cultural zeitgeist moving into 2024. As of Wednesday, November 8, leading music video network Vevo is showcasing live performance video content of its "DSCVR Artists to Watch" 2024 campaign, now in its tenth season. The series and brand's class of 2024 is a curated selection of global artists who are on the cusp of breaking into the mainstream over the next year.
One of the most anticipated and competitive lists in the emerging music space, Vevo's DSCVR ATW provides the listed artists with critical exposure and promotion to help propel their careers. The artists will be marketed and featured in Vevo's music video programming through playlists and editorial features across the company's networking, including YouTube and connected TV platforms, such as Roku and Apple TV.
"For the past decade, we've had the privilege of watching the alumni of this program go from talented emerging artists to global superstars," says JP Evangelista, SVP of Content, Programming, and Marketing at Vevo. "From Billie Eilish to Sam Fender, Ice Spice to Wet Leg, to Feid and beyond, the exceptional amount of diverse talent our past list members have is astounding, to say the least."
"This list is a true passion project for all of Vevo, powered by our in-house team of music lovers to who are committed to finding the next big act to shine a spotlight on," Evangelista continues. "With the help of our vast distribution network, marketing and promotional efforts, and top-tier production team, we have the ability to assist these artists in their journey to the top."
Vevo's Up and Coming 'DSCVR Artists to Watch' Class of 2024
Chappell Roan (Island/UMG)
Elmiene (Polydor, UMG)
Florentina (Good Kid Records & Polydor x Island Records/UMG)
Fridayy (Def Jam Recordings)
HARLEY (Sony Music France, RCA Records)
Jazzy (Polydor, UMG)
Judeline (Interscope Latin)
Khamari (RCA/SME)
Libianca (5K Records/RCA)
LU KALA (AWAL)
Mae Stephens (EMI, UMG)
Nathan Galante (UMLE/UMG)
Olly (Epic Records Italy)
Qing Madi (Columbia/SME)
Sarah Kinsley (Verve/UMG)
ScarLip (Epic/SME)
Strandz (Epic/SME)
Teezo Touchdown (RCA/SME)
The Last Dinner Party (Island Records, UMG)
Throughout the past decade, Vevo's ATW list has included countless now-global superstars across genres, including Sam Smith, Maggie Rogers, Lewis Capaldi, Billie Eilish, Sam Fender, Pop Smoke, FLO, Wet Leg, GloRilla, and Ice Spice.
---