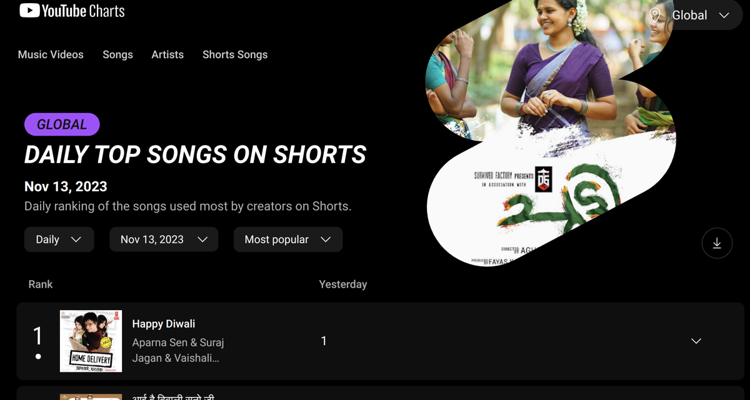 Photo Credit: YouTube
YouTube says its Shorts service is pulling in 70 billion views each day, prompting the service to launch YouTube Shorts music charts.
YouTube says the new charts are a way for artists to gain recognition on the platform and celebrate their success across every music format. New daily charts include 'Top Songs on Shorts' and 'Top Music Videos' to highlight what the YouTube Shorts community is listening to each day. The Top Songs on Shorts chart reveals the most popular music trending among creators, while also showcasing regional Shorts trends on a global scale.
To help keep pace with the daily changing landscape of YouTube Shorts, YouTube has introduced Daily Charts for Top Songs on Shorts and Top Music Videos alongside its Weekly Charts. It is also highlighting a new 'Featured Carousel' to bring charting artists to the forefront of the YouTube Shorts community.
The rise of short-form video content on the internet has been powered by the popularity of TikTok among Gen-Z, but it's also the place where most advertisers spend their money. Social media marketers are spending 33% of their budget on the format, compared to just 11% on long-form videos and 15% for others (written content).
"YouTube charts are a true reflection of global music culture and a celebration of artists and their success, powered by billions of fans around the globe," adds YouTube Global Head of Music Lyor Cohen. These charts are also how YouTube competes with TikTok as a music discovery platform for Gen-Z to find their sound. The YouTube Charts site is easy to browse and features a carousel of quick facts.
"All I Want For Christmas Is You" by Mariah Carey is the highest chart jumper, moving up 71 spots to the #23 spot this week. And "Snooze" by SZA holds the longest chart run ever on YouTube Charts, at 43 weeks. It will be interesting to see if these charts hold attention like Spotify's focus on unique playlists—including its Billions Club playlist that draws focus on highly successful tracks.
---